Sacred Heart University
Horizons at Sacred Heart University was established in 2011. The program has grown to serving over 160 low-income students from Bridgeport in grades K-9. Horizons at Sacred Heart provides essential opportunities for children to realize their passions, reach their potential and ultimately lead meaningful, choice-filled lives. Horizons at Sacred Heart's program embodies the values of: Community, Collaboration, Passion & Joy, Resilience, and a Whole Child Focus. Their curriculum is experiential and academically rigorous, while culturally relevant, equally emphasizing content knowledge, 21st century success skills and social emotional learning (SEL).
Horizons at Sacred Heart has partnered with Horizons at GFA for high school grade level programming; their high school students participate in a combined Bridgeport program.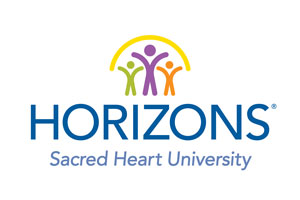 Summer 2022 Dates: June 27th - August 5th
Executive Director: Ashley Nechaev
Website: Horizons at Sacred Heart University